On the Road Again
A trip to Oregon nourishes body and soul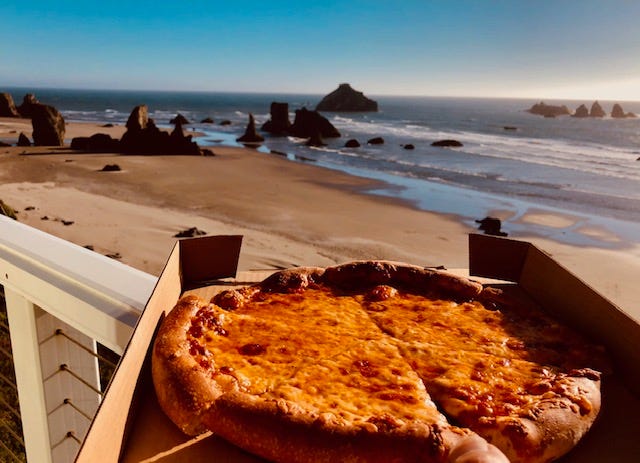 Filling ourselves with pizza and heavenly scenery in Bandon, Oregon
Food for the soul.
That's the phrase my husband Jeff suggested when I was stumped about what food angle to write about when talking about our road trip to Oregon. The food we ate along the way was mostly unremarkable, grabbed on the go, and eaten wherever we could find a spot well away from potentially infectious individuals. Admittedly, "food for the soul" is a bit of a cliche, as my son Sam pointed out when I put up an earlier version of this newsletter. And, when I thought about it, I'm not exactly sure what I'm talking about when referring to the soul. The food I write about mostly fills a more tangible part of me. But still, our travels filled us up with sights, sounds and the simple pleasure of being somewhere else in a way that no gourmet feast could possibly do. I guess you could call that food for the soul.
Howling Dog sea stack at sunset, same beach as above.
We had dutifully stayed home for almost three months, and when we suddenly found ourselves with two weeks of free time, we might have continued sheltering in place—it was undoubtedly the more prudent thing to do. But neither Jeff nor I could stand the thought. We'd walked our local neighborhood so many times, we'd run out of new ways to go. Granted, our rambling almost always takes us to the beach, about a mile away, making us the envy of many and the subject of ridicule when we dare to complain. But still, the thought of escaping the reality of the present moment—pretending for a short spell that life was normal again—was like a familiar childhood melody calling us out to play. Hopefully it wouldn't end in disaster.
And to which exotic locale did we decide to go? Antarctica? Katmandu? To Japan to visit our son and daughter-in-law—my number one choice? Unfortunately, the latter is off limits until further notice because of current travel restrictions. And, if we could go, we're not ready to risk an airplane trip—even if the airlines leave the middle seats empty and clean plane interiors until they glow.
Islands in the mist—the view from our room in Bandon.
Instead, we decided on a road trip to a place we know and love—the Oregon coast.
Same view next morning at low tide.
Off we went on a Saturday morning in Jeff's Hyundai Elantra, the one that's supposed to get 40 mph, but only manages 32 mph at best on the highway. But who cares? Gas is relatively cheap these days—and Jeff just got talked into purchasing two new tires!
Jeff capturing the sunset in Cannon Beach.
This ought to be the point where I go into raptures about the best places to dine en route, but, as mentioned above, I can't. Most of what we ate ran the gamut from poor to acceptable—it was road food at a time when we were taking that almost literally, fearing to spend time inside eating establishments, where, in some instances, we were the only ones wearing masks. "Fine" was Jeff's most common description of what we put in our mouths—unless the item contained chocolate or melted cheese, which, of course, he ate whenever possible.
Henry the Fish is definitely not edible. He's constructed of plastic waste culled from beaches near Brandon and designed by a local nonprofit, Washed Ashore.
Among the list of delights: bad prime rib (60% fat, 40% gristle), cold French fries, a tasty but skimpy chicken salad, a chocolate-dipped cone from Dairy Queen, too many ice cream treats to count, and some walnut fudge.
Although we spent most of our time by the water (and I was even induced to hold a Dungeness crab freshly caught off a dock in Brandon), Jeff doesn't eat fish, and I had it only once—a spicy rockfish taco from a food truck in Bandon. It was far better than I anticipated, and the setting was just right—a picnic table outdoors, safely away from crowds of tourists.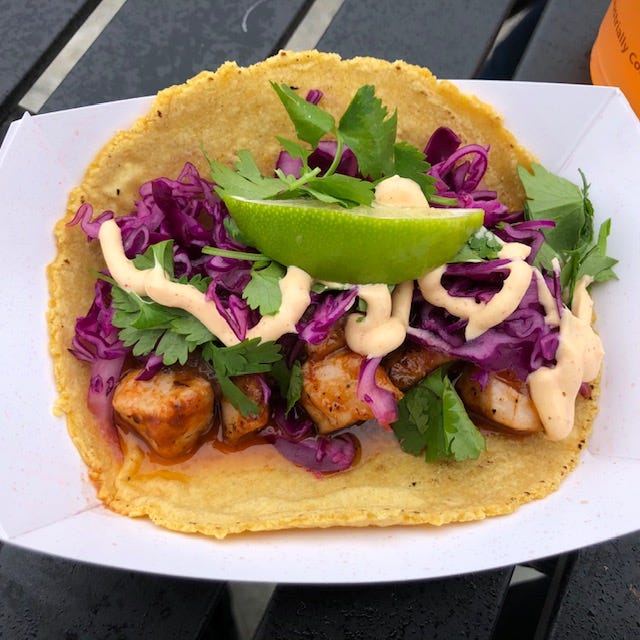 For obvious reasons, we avoided dine-in places, opting for takeout pizza, eaten on the back porch of an Airbnb rental—appropriately named Cozy Cottage—in Cannon Beach, or on the balcony of our room with the unearthly view at the Sunset Motel in Bandon (see above).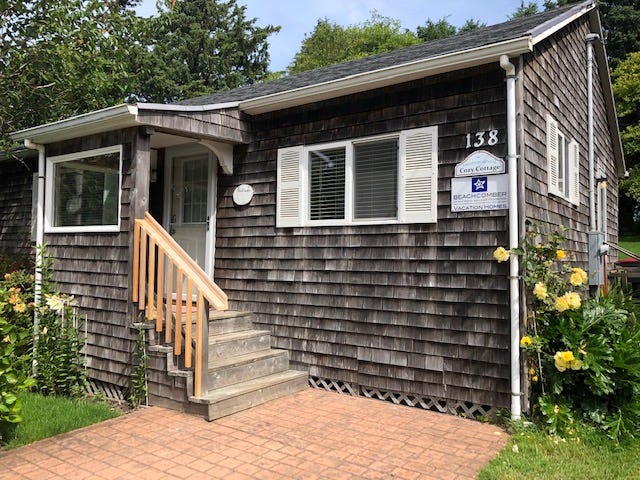 Cozy Cottage
One of my favorite things to do when traveling is to putter around in local craft shops, galleries, antique stores, museums. This time there were some limitations because of the coronavirus, with some places still shut tight, but quite a few opening up again, with masks requested or required in most spots and hand sanitizers at the ready. You can hear a sound clip here from one of my favorite artists and proprietors, Jim Kingwell, of Icefire Glassworks in Cannon Beach, on the challenges of keeping his business going after the town closed down.
He and wife and fellow glass artist Suzanne Kindland had to stop doing their trademark glassblowing demos that attracted large crowds on many an afternoon throughout the year.
"For years, we always relished that personal contact of people being able to visit the studio in almost unlimited numbers," Jim told me. In a kind of balletic dance, the two trade roles during demos, with one creating the piece and the other assisting—back and forth. In COVID times, that hasn't been possible. But the interest in their work and the several artists whose pieces are on display in the studio has surged again as people have returned to town in growing numbers following the lifting of tight restrictions.
Jim, mindful of the continued danger of the virus, gently reminds those who enter his shop to wear their masks and use hand sanitizer before touching the pieces. He misses blowing glass in the studio he shares with Suzanne, something he's been doing for almost 50 years. "I have years left to do," he said.
After resisting putting up a website for many years, the two finally did—check it out at icefireglassworks.com.
A bowl I purchased by Mark Gordon, who credits Jim and Suzanne as his mentors.
Of course, I can never leave without purchasing something, which I've been doing over the past seven summers since we've been coming to Cannon Beach.
Another of my great joys is to wander down to the beach to snap a picture of the iconic Haystack Rock that is a magnet for tourists and photographers, not to mention the tufted puffins, murres and other birds who build their nests high up in the crags and crevices of the 235-foot-high sea stack. Although we've taken hundreds of pictures over the years, we can't help taking more, especially at magic hour—shortly before sunset. Occasionally, we find ourselves the subject of other photographers.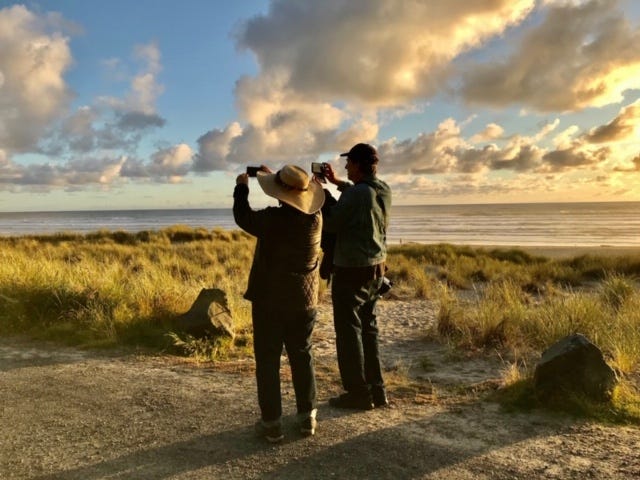 Sometimes I go along for the ride as Jeff shoots pictures and videos for his Photowalks series. The one on Cannon Beach includes visits to some of our favorite places—including Jim and Suzanne's studio.
Overall I'm glad that we were able to get away, despite the risks. It didn't feel that dangerous—as long as we kept our masks handy and dined in the open air. And even though we spent most of our time at the beach—we played in a different sandbox.
Thanks for reading the latest edition of Ruth Talks Food.
If you enjoyed it, please subscribe, share with a friend, and don't forget to click reply to let me know what you think!